"It's been really good. It's come from all kinds of places in our lineup," Yankees manager Joe Girardi said. "Different places every day, everyone contributing. It's what we did more the first two months and a week of the season. We went through some stuff and kind of struggled, but we got back on track."
With the victory, the Yankees remained three games behind the Red Sox in the division, with Boston securing a 3-1 win at Tampa Bay on Saturday. New York holds a commanding five-game lead over the Twins — who lost to the Blue Jays on Saturday night — for the first American League Wild Card spot.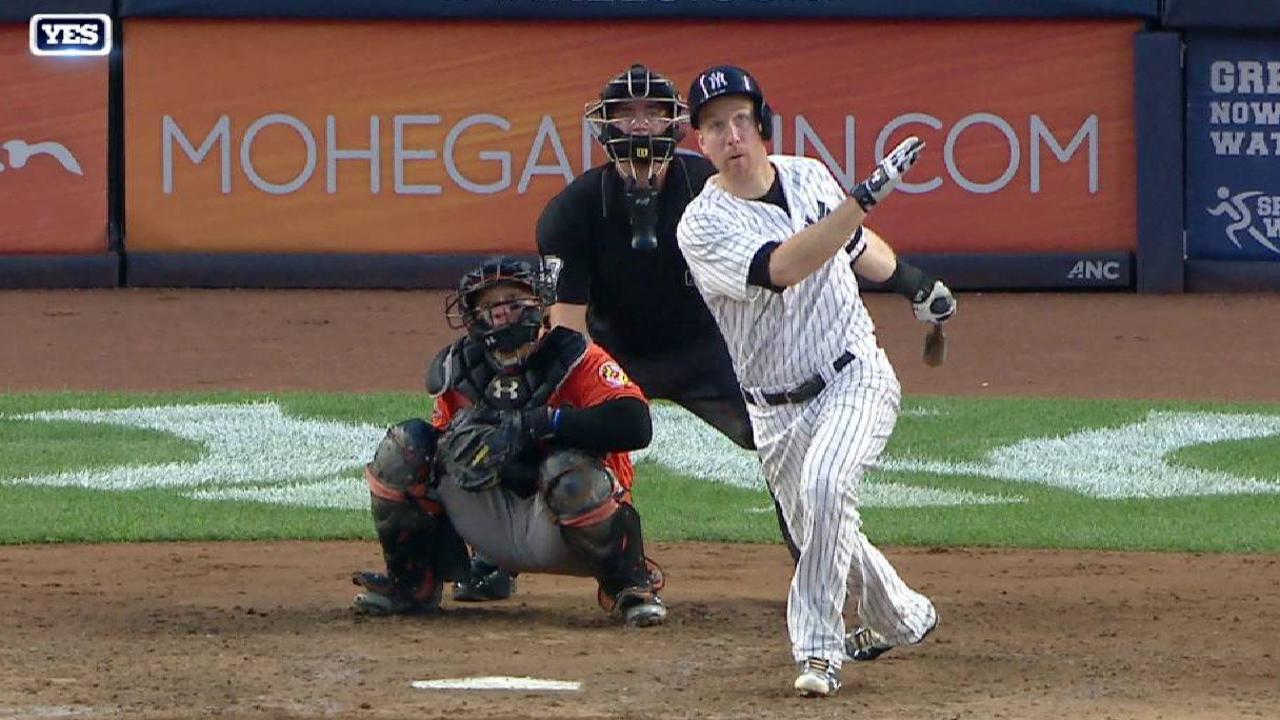 The win was the Yankees' 82nd of the season, extending a run of consecutive winning campaigns (since 1993) that ranks second in Major League history only to the 1926-64 Yankees, who secured 39 straight seasons of winning baseball.
Gregorius belted his 23rd homer, moving within one blast of equaling Derek Jeter's 1999 mark for the most home runs hit by a Yankees shortstop, and Bird launched his second shot in the past two games as New York chased Jeremy Hellickson after just three-plus innings. Todd Frazier added a two-run blast, his 26th, in the seventh inning.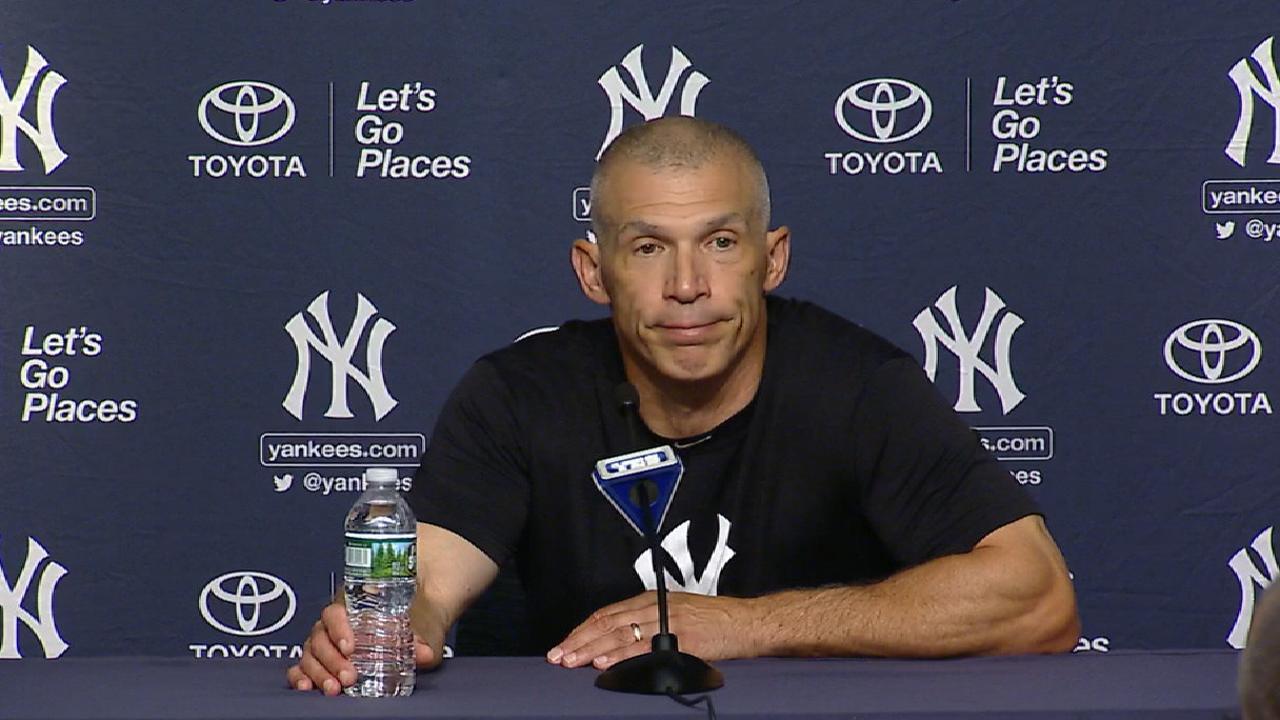 Wielding a sharp curveball that kept the Birds' bats silent, Montgomery struck out six over six scoreless innings as he picked up his first victory since July 25 against the Reds, which also marked the most recent time that he had completed six innings.
• Yanks shuffle rotation to spare CC on Jays' turf
"It was nice to really just control the tempo today and attack hitters," said Montgomery, who scattered four hits with a walk. "You don't want to take your foot off the gas too much with the Orioles; they can really swing it. If you give them a chance to get back in the game, they're going to take it and hit a couple of balls out of the park."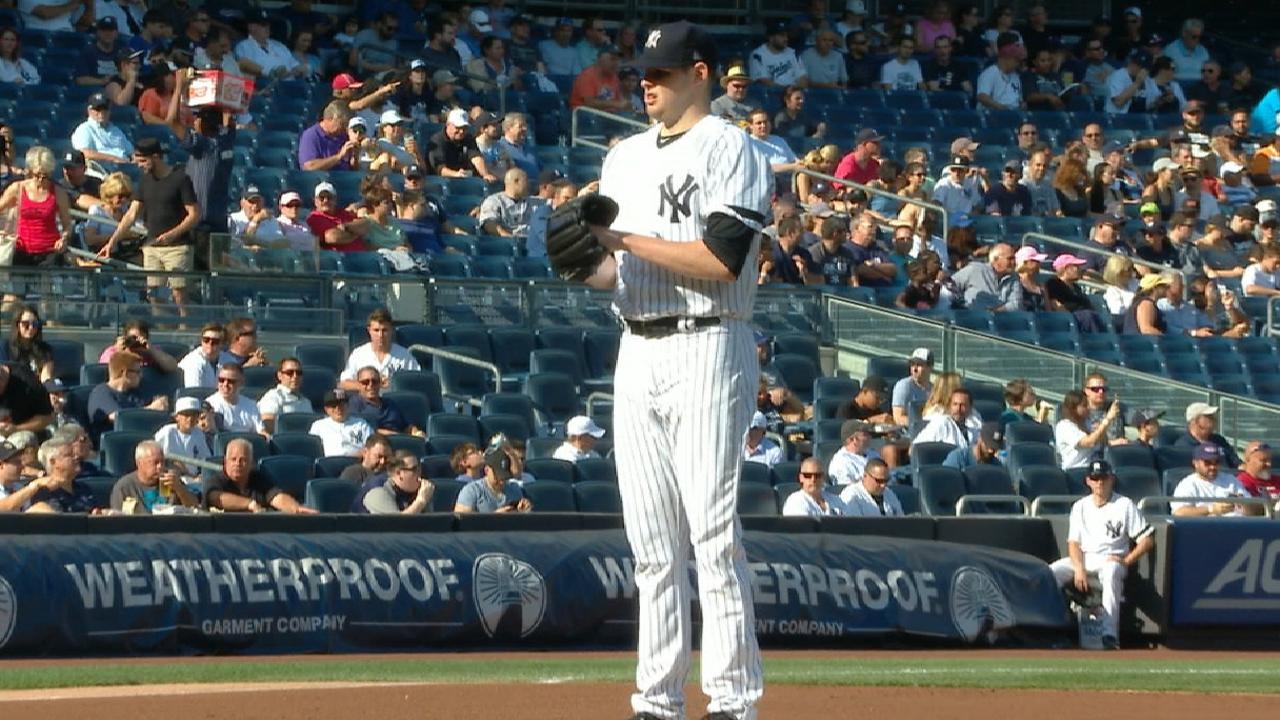 The Orioles were three games over .500 as recently as Sept. 5, but they have lost nine of their last 10, all but ending their chances of postseason contention. New York is 12-6 against Baltimore this year, including 8-1 at Yankee Stadium.
"There's a lot of things you could look into," Orioles manager Buck Showalter said of his club losing eight of nine in the Bronx and allowing 98 total runs. "We've made really a lot of bad pitches that should end up in the bleachers. And we walk people before they hit them, so that's a bad combination. There's a lot of bad pitches being made with some stuff that isn't up to what they're capable of taking out there."
Shortstop J.J. Hardy had two of Baltimore's hits in his first start since June 18. Austin Hays picked up both his first Major League hit — a third-inning single to center field off Montgomery — and his first big league homer, a two-run shot in the ninth inning off Chasen Shreve.
• Hays' 1st hit, homer give O's reason to smile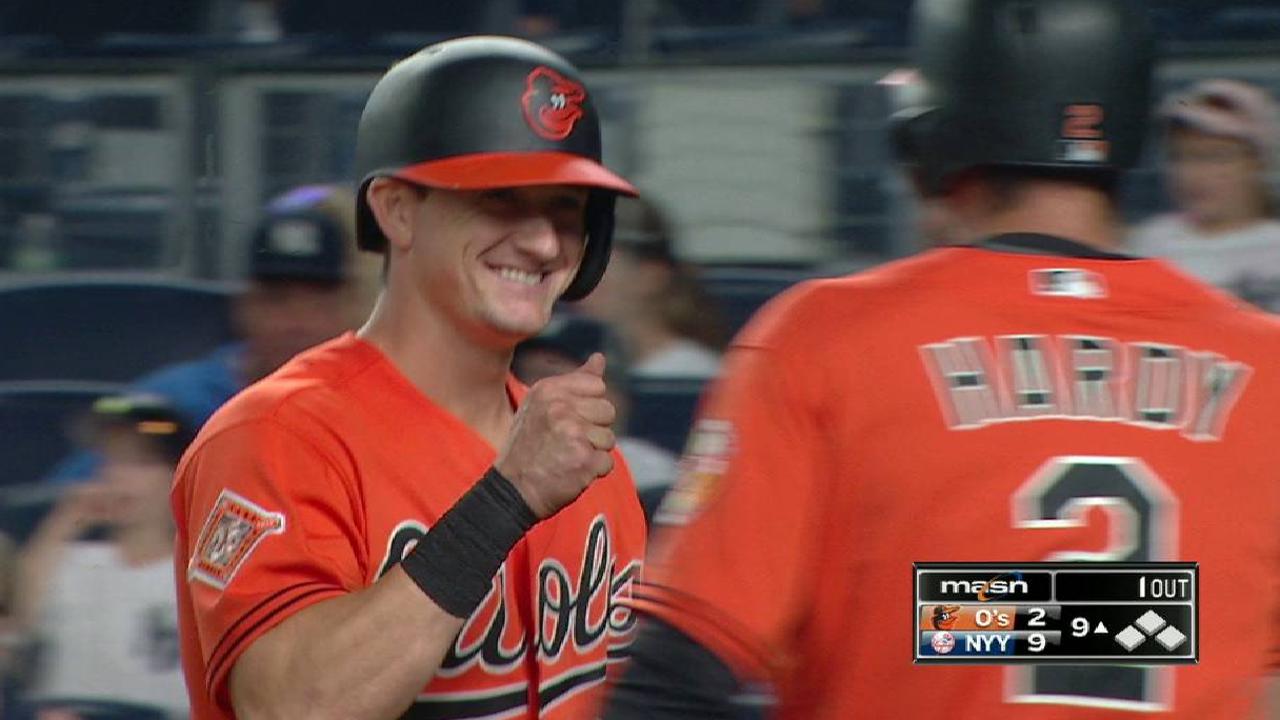 "It's frustrating," Hardy said of an Orioles club that got within 1 1/2 games of the second AL Wild Card at one point and is now essentially buried. "It's tough that we run into Cleveland as hot as they were, go up and play Toronto, lose two there. And come here and just haven't been playing too well. So, it's been a frustrating stretch."
MOMENTS THAT MATTERED
Yes, Sir: After Hellickson issued a pair of two-out walks to Chase Headley and Aaron Judge in the third inning, Gregorius made the right-hander pay, adding to his career highs by collecting his 23rd homer and 80th RBI of the season. It was the second home run of the series for Gregorius, who also slugged a two-run homer in the fifth inning of Friday's 8-2 victory off reliever Miguel Castro.
"I don't try to do anything different; I just try to hit line drives, and I think when I hit some fly balls, they carry out," Gregorius said. "I'm not going out there trying to do it. I'm just trying to drive the ball to left-center, to right-center, wherever they try to pitch me and see if I can get the barrel to the ball."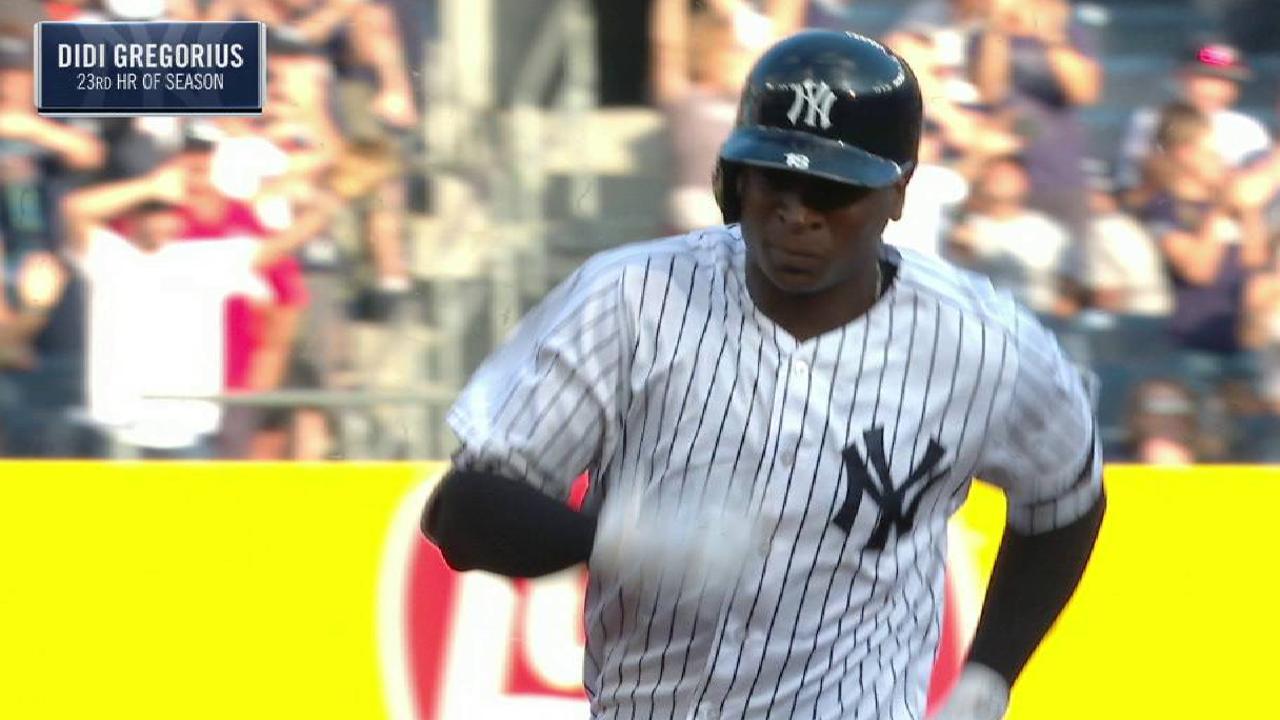 Fly, Bird, fly: The Yankees continue to believe that Bird can be an impact first baseman when healthy, and the left-handed hitter showed off his sweet stroke with a three-run blast to the second deck in right field. That homer, Bird's fifth of his injury-shortened season, came after Jacoby Ellsbury doubled and Frazier walked to begin the fourth inning.
"Just to be out there and play and be a part of it feels great," Bird said. "I know I've said it, but really, that means everything for me — just to be a part of it and contribute however I can." More >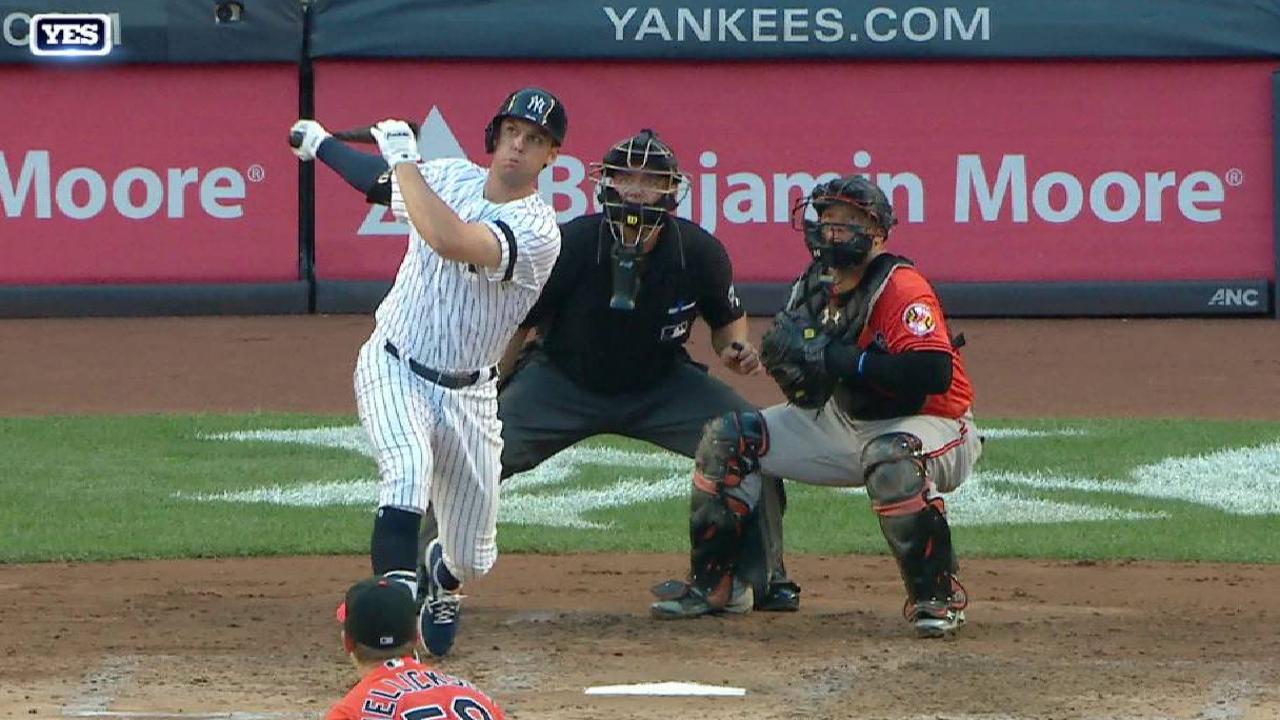 QUOTABLE
"It hurt a lot. It's kind of been strange, three of the last four starts, I think I've had four walks in all three of them. I really haven't gone through anything like that. Then the game in between, I have no walks. I'm kind of fighting myself, fighting my delivery. You know, just kind of difficult to get the ball down right now." — Hellickson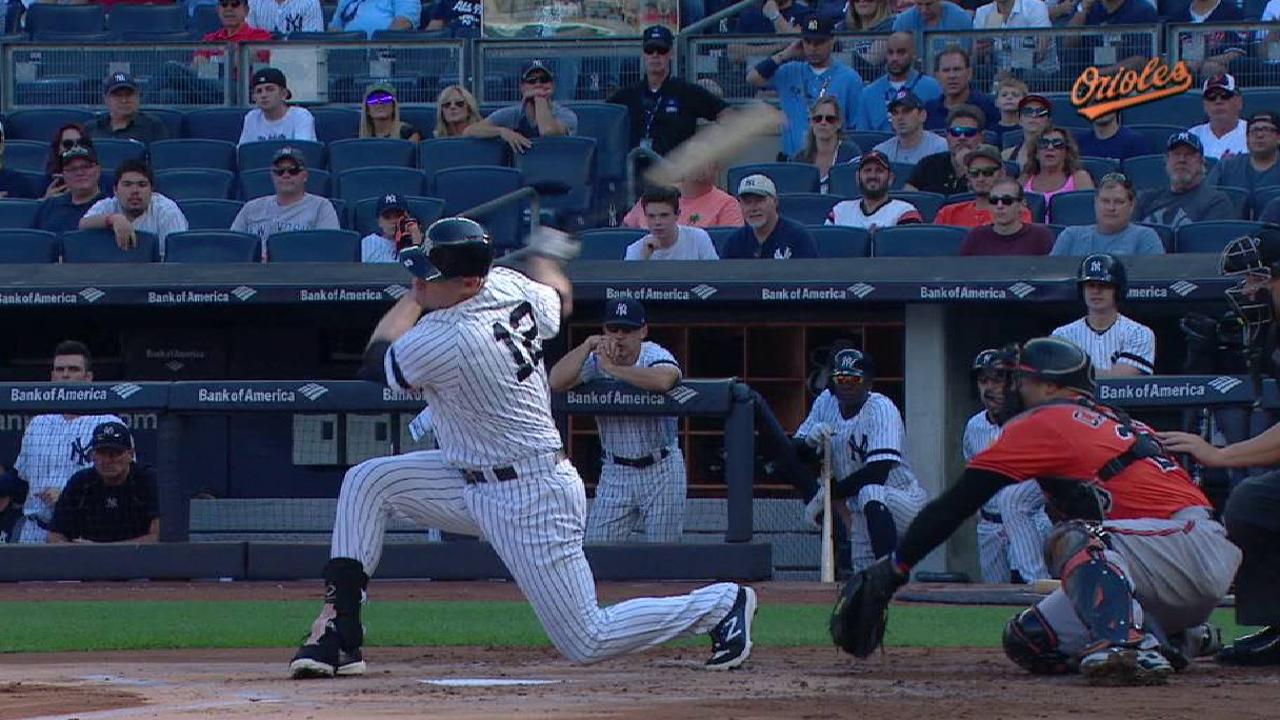 SOUND SMART WITH YOUR FRIENDS
Yankees batters have hit a Major League-leading 106 homers with runners on base this season, their most since 2005 (111) and the most by any team since the Blue Jays had 110 in 2010.
WHAT'S NEXT
Orioles: The inconsistent Ubaldo Jimenez (5-10, 6.75 ERA) will remain in the rotation and get another chance Sunday in the Bronx, with first pitch scheduled for 1:05 p.m. ET. Jimenez allowed three earned runs over five innings on Monday in a loss to the Blue Jays.
Yankees: Right-hander Sonny Gray (3-5, 2.66 ERA with New York) will be on the hill on Sunday, concluding the season series with Baltimore. Gray is 2-3 with a 4.39 ERA against the Orioles in his career, including tossing 5 2/3 innings of one-run ball for a win on Sept. 7 at Camden Yards.
Watch every out-of-market regular-season game live on MLB.TV.
This story was not subject to the approval of Major League Baseball or its clubs.