Severino, now 13-6 with a 2.93 ERA, made one major mistake that Welington Castillo hit for a two-run homer and a 2-1 lead in the second inning. It spoiled the righty's chance to add to his MLB-best 15 games allowing one run or fewer.
"He has 'plus-plus' stuff, but he's not afraid to throw a changeup in a hitter's count," infielder Chase Headley said. "He has a wipeout slider, but he can throw it for a strike when he needs to. He doesn't let adversity get to him: He gives up the two-run homer and he … turns the page. He shook it off and started throwing up zeros."
It's still too soon to tell what situation manager Joe Girardi will be faced with when he has to make a choice. If the Yankees overtake the Red Sox in the American League East race, it could be Game 1 of the AL Division Series. If not, it could be a tiebreaker game or the AL Wild Card Game. And while he commits to nothing, Girardi describes Severino as the type of pitcher one chooses.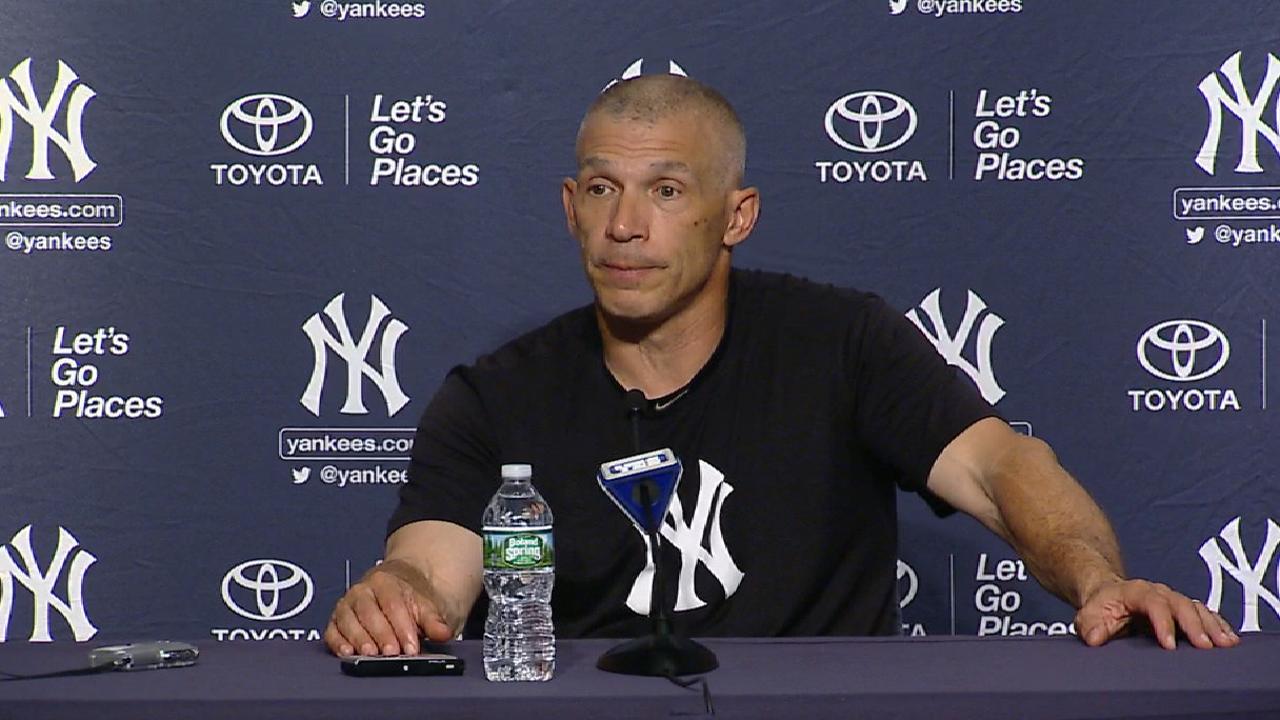 "You look at the way he's pitched, and obviously, we really believe in him when he takes the mound. That's the best way to say it," Girardi said. "I don't want to get too far ahead here. We've still got a lot to do. We've got 15 games left? We need to focus on that, not what might be."
And this is the Yankees, so everyone knows there are loftier goals than just reaching the postseason. But with Severino, Girardi says, the club has the type of pitcher required to get all the way to the end.
"You look at the teams in the past that have won: They've had true aces," Girardi said. "And you look at the teams last year that were in the World Series — there were two aces on the mound who had really big years for their teams. So I think it's really important."
"Starting pitching is a big deal, and to have someone who can go out and dominate a game is extremely important," Headley echoed. "To have him throwing the ball that way … you feel pretty good about it."
Contextually, Severino's breakthrough season is actually more impressive than the numbers that likely put him immediately behind Cleveland's Corey Kluber and Boston's Chris Sale in the AL Cy Young Award conversation.
After making a splash by going 5-3 with a 2.89 ERA in 11 starts in 2015, Severino was expected to be key in the '16 rotation. Instead, he fell flat by going 0-8 with an 8.50 ERA in 11 starts before being sent to the Minors. He was effective as a reliever late in the season.
Asked about getting the "ace" label, Severino replied, "That means a lot to me because the year I had last year. To come here and help the team win means a lot to me."
"I worked as hard as I possibly can to show the Yankees and their fans that I can be an outstanding pitcher."
So how would Severino feel about being anointed to pitch the biggest game of the Yankees' season, whenever it should come?
"That would be an honor for me. I am ready," he said. "I am feeling good. My arm is good. My pitches are good. It would be an honor if they asked me to do that. . . . I am ready if they need me. I will go and do my job."
Roger Rubin is a contributor to MLB.com based in New York. This story was not subject to the approval of Major League Baseball or its clubs.