"He had an outstanding day in Chicago," Girardi said of Andujar's June 28 performance, in which he went 3-for-4 with a double, four RBIs, a stolen base and a walk in New York's 12-3 victory over the White Sox. "The thing is, we want him finished off. We don't want him necessarily to be a guy that plays two or three times a week. We want him to finish his development off and be an everyday player."
The Yanks also recalled right-handed reliever Jonathan Holder following Scranton/Wilkes-Barre's 6-4 loss to Durham in Game 4 of the 2017 Governor's Cup Final, eliminating New York's top farm affiliate from the International League playoffs.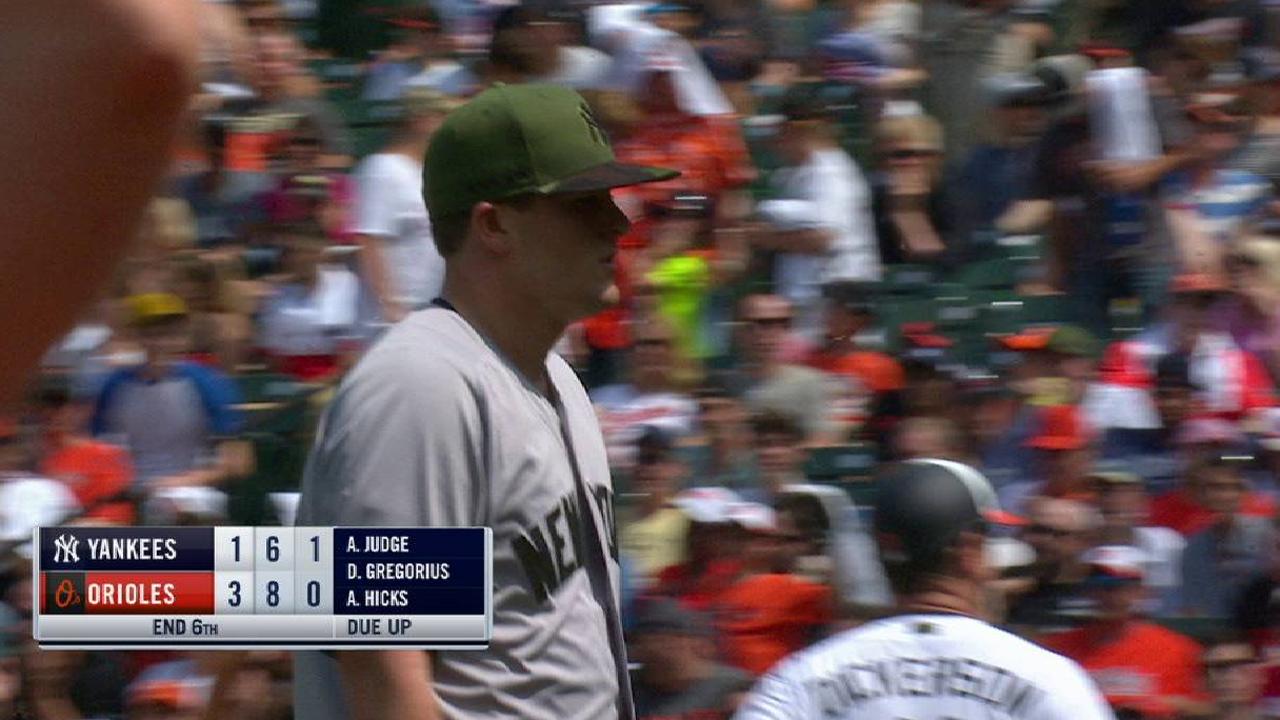 Girardi said that he believes there will be opportunities to work in Andujar behind third basemen Todd Frazier, Chase Headley and Ronald Torreyes. Andujar served as the designated hitter that evening in Chicago, and while there have been concerns about his defense, Girardi said he has been told that Andujar's glovework has improved since then.
"Obviously, I think it's important that we get our eyes on him and get a chance to work with him," Girardi said. "I have a lot of confidence in the young man."
Andujar led all Yankees Minor Leaguers in season batting average (.315) and doubles (36), and he ranked third in RBIs (82) and tied for fourth with a career-high 16 homers. Andujar consistently made excellent contact, striking out just 71 times in 522 plate appearances (13.6 percent).
Welcome back to the Bronx, @MAndujarPapa! 😀 pic.twitter.com/5UgiinVWn7

— New York Yankees (@Yankees) September 16, 2017
Andujar began the season with Double-A Trenton, where he batted .312 (79-for-253) with 30 runs, 23 doubles, seven homers and 52 RBIs in 67 games. He was promoted to Triple-A Scranton/Wilkes-Barre on June 19, where he hit .317 (72-for-227) with 36 runs, 13 doubles, nine homers and 30 RBIs in 58 games.
Girardi said that the fact Andujar did not hang his head and continued working hard at Triple-A speaks volumes about his motivation level.
"I think it tells you the kind of kid he is and how hungry he is," Girardi said. "He really wants to be here. He works really hard — I mean, really, really hard. I remember the first time getting sent down. You have this vision of how great it is in the Major Leagues, but it's even better than what you envision.
"And then once you go back down, you tell yourself, 'I'm going back up, and then I'm never going down again.' You really want to be here, and I think that's the attitude he took."
Bryan Hoch has covered the Yankees for MLB.com since 2007. Follow him on Twitter @bryanhoch and on Facebook. This story was not subject to the approval of Major League Baseball or its clubs.